2023 AsRES-GCREC Jont International Real Estate Conference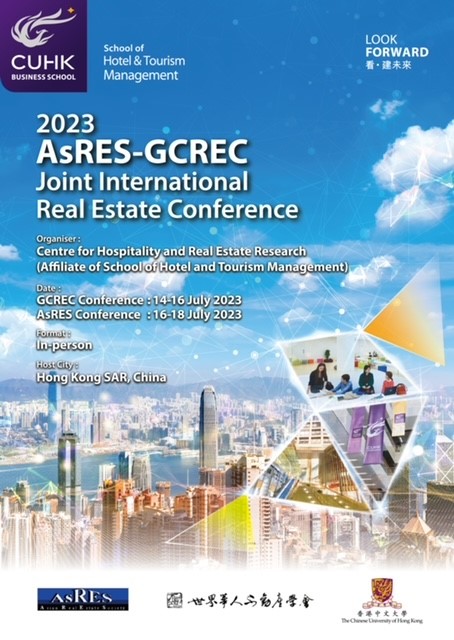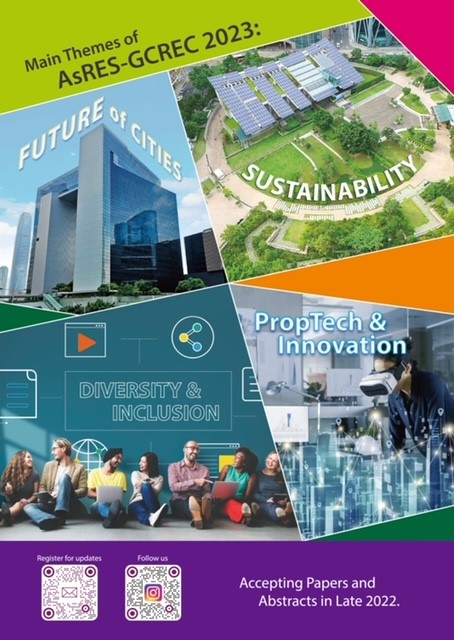 CONGRATULATIONS to the Global Social Science Institute (GSSI) for being awarded the IRES Corporate Leadership Award

Recruitment of School of Built Environment, Faculty of Design, Architecture & Building, University of Technology Sydney
- Lecturer / Senior Lecturer - Property Economics (Course Director)
- Senior Lecturer - Master of Property Development (Online)

Special issue in International Journal of Housing Markets and Analysis on the topic "The Post-COVID-19 International Housing Markets"

Pollman Fellowship in Real Estate and Urban Development is now accepting applications for the 2022-2023 fellowship year.

The Property Research Trust, formerly the RICS Research Trust are now pleased to make a Call for applications for funding.

Homer Hoyt Institute Best Paper Award:
Teshima, Kensuke, Junichi Yamasaki, and Kentaro Nakajima for their paper "From Samurai to Skyscrapers: How Historical Lot Fragmentation Shapes Tokyo"
GSSI IRER Best Paper Award
:
Coulson, Ed and Mingzhe Tang for their paper "Housing Wealth, Fertility, and Child Quality"
We are pleased to announce the winners of the Global Social Science Institute (GSSI) 2020 International Real Estate Review (IRER) Best Paper Awards, which are selected from the papers published in Volume 22 (2019) (Issues 1 to 4) and Volume 23 (2020) (Issues 1 & 2 only) based on the voting of the IRER Editorial Board members.
The GSSI 2020 IRER Best Paper Award winners are:
Gold Award (USD 10,000):
- Time Preferences, Mortgage Choice and Mortgage Default, Vol. 23, No. 2, by Sumit Agarwal, Yongheng Deng, and Jia He
Silver Award (USD 5,000):
- Property Prices: How Effective is a Property-Purchasing Limitation Policy for Managing Affordability?, Vol. 22, No. 2, by Hui An, Qianmiao Zou, Ying Zhang, and Rakesh Gupta
Bronze Award (USD 2,500 each):
- Geographic Proximity and Competition for Scarce Capital: Evidence from U.S. REITs, Vol. 22, No. 4, by Chongyu Wang, Jeffrey P. Cohen, and John L. Glascock
- Natural Disasters and Housing Prices: Fresh Evidence from a Global Country Sample, Vol. 23, No. 2, by Nicholas Apergis
We convey our heartiest congratulations to the authors of the above winning papers for contributing their excellent works to IRER. Our sincere gratitude also goes to the Editorial Board members who have contributed in the paper selection process.
We urge you to submit your papers for review for publication in IRER, and papers published from Issues 3 of Volume 23 (2020) to Issue 4 of Volume 24 (2021) of IRER will be eligible for considerations for the GSSI 2021 IRER Best Paper Awards.